When it comes to return on investment, it is hard to beat a freshly painted rental interior. That said, many landlords are unsure how much something like a paint refresh should cost. Moreover, how often does a rental need a complete repaint? Finally, which paint is the best to mitigate the added wear and tear rental face? These are all important questions that affect an owner's all-important bottom line. So, continue reading below as we discuss everything you need to know when painting a rental property.
Why is Painting a Rental Property Important?
Walls are the largest surface in your rental property, and as such, they are one of the first things prospective tenants will notice. Thus, unsightly scrapes, scuffs, discoloration, or excessive wear can easily make the entire apartment or home look drab.
A freshly painted interior is a worthwhile investment when trying to attract high-quality tenants to your listing. Therefore, with a few simple coats of paint, the space can go from drab to new and bright. Keep reading below for essential tips to get the most bang for your buck!
Pro Tips
Painting a rental property requires both time and money. However, it is a necessary part of being a successful landlord and maintaining the condition of your investment property. That said, with the right tools and preparation, the process can go smoothly and stay within a reasonable budget. To help get you started, check out these pro tips for painting your investment property below: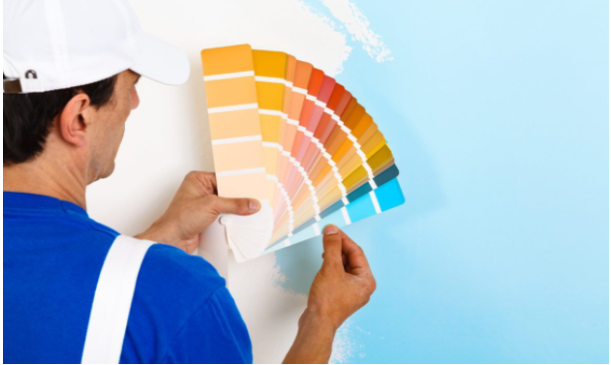 1.Color Makes All the Difference
Painting a rental property is not the same as painting your own personal home when it comes to choosing a color. In a rental, the goal is to provide a neutral backdrop in which tenants can bring in their own personal style touches through furnishings and décor. So, with so many colors and shades to choose from, stick to a neutral palette. That way, landlords have the best chance of not alienating a large pool of prospective tenants with overly personal or bold color choices that do not appeal to everyone. That said, neutral does not have to mean white. In fact, many subtle colors are well-suited to rental properties.
2. Pick the Right Finish
A rental property experiences a higher turnover than an owner-occupied home. Therefore, wear and tear will begin to show much faster on your painted surfaces. So, selecting the right paint finish for different areas of your rental home will help extend its life. Check out this helpful guide to different finishes and where to use them below –
Flat or Matte – This option offers no shine and makes walls look deeply saturated with color. However, it isn't easy to clean. So, use this in low-traffic areas only, such as a master bedroom.

Eggshell – Eggshell has a minimal sheen and is therefore great at hiding minor imperfections on wall surfaces. However, like matte paint, it is difficult to clean and needs to be in a low-traffic area.

Satin – The soft sheen of satin paint makes it the ideal choice for most of the rooms in a rental property. The finish is durable and perfect for both low and high traffic areas.

Semi-gloss – Easy to clean, thanks to a glossy finish, this paint is ideal for kitchens and baths.

High Gloss – High gloss makes a dramatic statement in any room. If not professionally applied, though, it can be unforgiving and uneven. That said, properly applied, high gloss repels water, is durable, and easy to clean. Perfect for kitchen cabinets, trim, or doors.
3. Balance Quality with Affordability
Painting a rental property can become an expensive endeavor. Especially since you will be painting more often in an investment property. That said, saving money does not mean abandoning quality. Keep in mind that walls will generally need two coats to achieve the best result. Therefore, the best strategy is to buy quality mid-grade paint. Another way to manage cost is to buy one color for all of your rental properties. Not only will buying in bulk saves money, but it allows you to touch up and match the color as needed easily.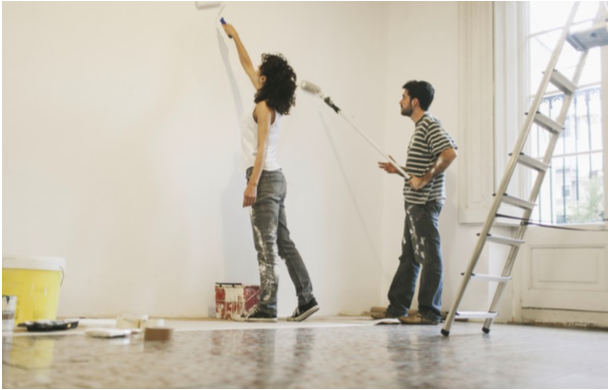 4. How Often Should a Landlord Paint a Rental Property's Interior?
Typically, how often to paint a rental property is at the landlord's sole discretion. However, besides aesthetics, there are instances where painting is absolutely a must. For example, if the property has evidence of chipping, peeling, or lead-based paint, this must be addressed before a tenant can occupy the home. In many areas, this is essential to maintaining the habitability of the home.
While simple scuffs, furniture marks, small holes, or damaged paint do not affect habitability – it does look bad. Depending on the amount of damage discovered once tenants move out, a simple touch-up may do the trick. However, if the damage is extensive or the home looks a little drab, repainting is a good idea. In general, landlords paint every 2 to 5 years. It is not necessary or cost-effective to repaint at every turnover. Below are 5 considerations before you decide to fully repaint your rental property.
5 Considerations Before You Repaint
Inspect – Once the tenant vacates the premises, conduct a thorough move-out inspection. This allows landlords to evaluate any damage to the walls or other parts of the home.
Clean – You may find that a little soap and water or a Magic Eraser can remove minor scuffs or dirt on walls. Pay close attention to high traffic areas along with doorframes and light switches.
Strategize – Not every room suffers the same degree of wear and tear. Therefore, consider only touching up low traffic areas and repainting high traffic areas as needed.
Evaluate – Is your property keeping up with the competition in the area? If not, a refreshed look with new paint may be important to draw in prospective renters.
Incentivize – Keeping a great tenant in place ensures a steady income for rental owners. That said, offering to refresh the home's paint after a few years can incentivize tenants to renew their lease. In addition, tenants may appreciate the gesture and your commitment to keeping the property looking its best.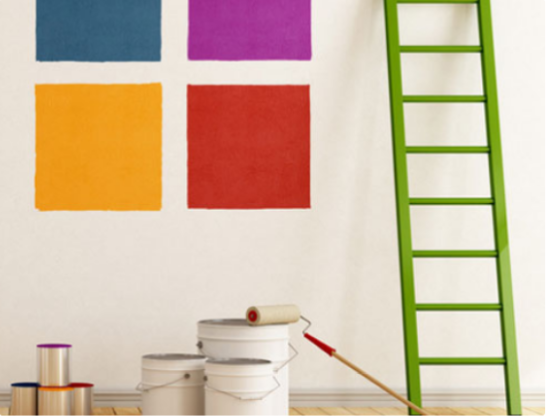 Who is Responsible for Painting?
To ensure a quality result with minimal damage, landlords should be the only ones responsible for painting. If a tenant does paint, it should be with the written permission of the landlord only. In addition, indicate any expectations of the tenant painting in the lease agreement.
Therefore, if you decide to allow the tenant to paint, be sure to inform them that any damage resulting from the paint or painting process will be the tenant's responsibility and deducted from the security deposit.
Should You DIY or Hire Professionals?
Owners can indeed paint to save money on their rental property. However, before you decide to DIY, consider the amount of time and effort involved. The truth is your time is valuable, and
investing in a reputable painting vendor may achieve better results in far less time. Professional painters have both the staff and equipment to give you an efficient and great result. After all, most painting occurs at turnover, and time is of the essence. The longer the home sits vacant, the less money in your pocket.
Another great way to ensure efficiency and the best possible outcome for your rental business is to hire a professional property management company. Rentifi Property Management understands that balancing a tenant's wants and desires with an owner's profitability is the key to success in the rental industry. Our experienced staff can help owners choose the right colors and vendors to keep their rental looking bright and fresh. So if your property needs a facelift or you would like to maximize profits, give us a call today: 239-549-6611.